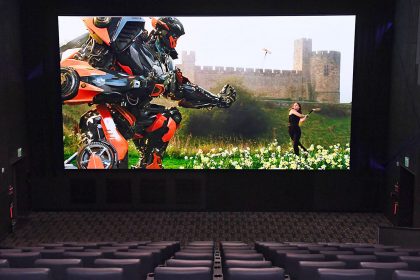 STADIUM LED SCREENS, SHOPPING MALL LED SCREENS
Where Are the Led Screens Used?
Led screens are now being used everywhere. Especially are seen more often in shopping malls, markets, advertising sector, public institutions, airports, streets and squares of the cities, big skyscrapers and banks.
Led screens are noticed. It makes a difference.  No matter how you make a store showcase, you cannot make as much impact as the LED screen. The vivid color of 16.7 million HD quality mesmerizes people. A glance contributes a lot to the screen owner, so the LED displays can be used everywhere.
Based on our 15 years of experience, we are telling you that the money you put on the screen will be returned to you in a short time.
STADIUM LED SCREENS
"Stadium Screens" are screens that completely cover the field in sports halls and stadiums.
The images displayed on screens during the match are often advertisements of large organizations.  The aim here is to make thousands of people at the stadium watch the advertisement of a company at the same time and to benefit from advertisement.
These screens also provide important financial contribution to sports clubs, federations, organizations that hire advertisement.
Our company is also experienced in this regard. The screens we have designed are designed for international sporting events. Especially, protective bars are placed on the screens.
SHOPPING MALL LED SCREENS
Led Screens are indispensable for shopping malls nowadays.  In order to attract the attention of the customers, a led screen project is applied outside and inside the shopping center.  Our company is a company that implemented led screen project for shopping centers in 35 cities across Turkey.
There is a sub-construction for every city, which can be served when needed. Shopping Malls are showy buildings. They are suitable for the architectural project which the screen is implemented without breaking the existing background. Especially after shopping mall is closed, we can work.  We have worked at 20 shopping malls for the Led screen project.  We finished the projects and handed them over. We have never had a problem in these projects.  We never paid compensation.  We witnessed that many of the non-competent firms went bankrupt due to the Shopping Mall projects.  We are a company that best applies special projects like shopping center projects.  In 2015, we won  "the best LED company in Turkey Integral Led Screen Technologies" by the MEA Marketing International Advertising sector.
DIFFERENCE BETWEEN LED PANEL AND LED SCREEN
There was no company except us in this business when we started. The first bill of our business shows the year 2016. It was in Ordu in Turkey.  Then in Bursa Fomora and the business has grown. There are hundreds of companies in this sector in Turkey. Thousands of people earn money from this business. We are proud of ourselves when we think about it. We are trying to produce the best products. We compete with ourselves. We are following technology very closely. We are not interested in buying the cheapest products and then selling them. We try to produce products that are deterioration resistant and do not make the customer pay money continuously for the service.
We prioritize the quality; give particular importance to the service.  All the Led screens in istanbul are our products.  The newest one is over 10 years old. For the last 7 years, no product has been taken for the service. We have not sold any spare parts. That is our difference.