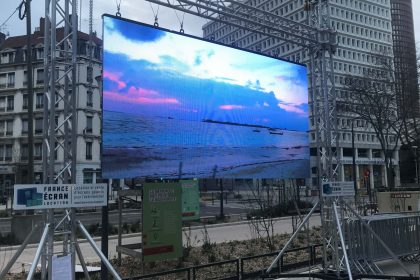 How LED Displays Make Outdoor Advertising Easier?
When translated from English to Turkish, the word "outdoor" is also used for an advertising term. This term means outdoor advertising.
The ads that we have been exposed to in every aspect of our lives, which serve us or not, are everywhere. Advertisements; radio, television, outdoor, indoor areas, toilets, airplanes, etc. many places that do not come into my mind. When you turn on the television, when you listen to the radio, when you read newspapers and magazines, you'll see advertisements. If you don't turn on the television, you don't have the chance to see ads, even if you don't listen to the radio, but you're more likely to be exposed to outdoor ads without spending any effort.
Signs and buildings are made with paint on outdoor advertising, nowadays appear in different dimensions. With the development of technology, outdoor advertising has changed completely. Outdoor venues where people use too much have reached an important position for advertising.
Companies that have a distribution chain and want to reach to direct consumers often prefer outdoor advertising. Each channel may differ from each other. We cannot use the term wrong or bad for any advertising channel. The television has a different effect, the radio is different. The ads are followed by the consumers in these channels are followed with their own will. But only outdoor is not like these channels.
When you go out on the street or go to a shopping mall, you come across outdoor advertising. The location of the advertisement area should be selected very well. The area of advertising and people's movements should be monitored before being selected. Advertising an area that no one is looking at means wasted money.
I want to mention a recent discussion. It is said that Outdoor advertisements have broken the aesthetics of the city. I never agree with this criticism. If the ad is used correctly and adapted to the structure of the city, there will be no problems. Advertising tools designed to suit the structure of the city certainly do not look bad. But sometimes you may have noticed too many ads makes the place very ugly.
Billboards, bus stops, building facades, buses, taxis, vans, and minibusses are all good for outdoor advertising.
When ads are used inappropriate and purposeful places, the right decision is made and it does not disrupt the structure of the city.
How LED Displays Make Outdoor Advertising Easier?
Without making changes on the signboard, with LED displays; you can display promotional videos, campaigns, classifieds, pictures, in short, you can easily highlight anything you want. You can easily make projects according to your needs. Because it is controlled by a computer, you can easily make any presentation you want. You can make DVD, VCD and Powerpoint presentations.
The display is very clear and is not affected by any natural conditions such as rain, snow, and sun. It can be removed from one area and easily used in another area. On the other hand. this is not practical for classical signs. You can easily make changes in any way you want without the need to constantly change the ad.
If you intend to install LED screens, I suggest you work with a company that has expertise and experience.
More Details: ledscreenpanels.com/manufacturer