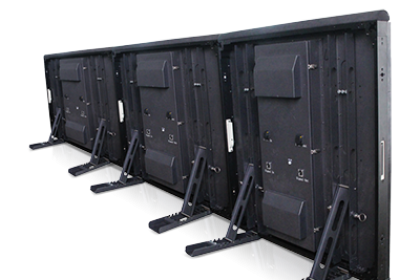 One of the methods of creating a white color is to mix red, blue and green color at certain ratios. The production of other colors can also be achieved by changing the brightness levels of Red, Green and Blue. The fact that LEDs can be produced in the desired color (wave) and brightness has been the main reason for using with coloring purpose. Thanks to the software and hardware systems that are equipped with high-speed technology, these ratios are changed at high speeds, which cannot be visible to the human eye.
LED
Led Display are display systems similar to computer monitors or television monitors. The image transferred from an external media is processed by the control system and transferred to the Display. Led display technology is basically based on the principle that the control system adjusts the brightness of the red, blue and green LEDs at the respective points.
The project features to be implemented are basically led Display with varying features; red, green and blue LEDs are placed according to the application in varying numbers, features and formats, which is preferred in the production of large size Displays especially due to their technology.
Basically, they are designed as;
A- Led
B- Pixel
C- Module
D- Panel
E -Display.
The most important features are efficient working in daylight, weatherproof production and modular structures which enable to be preferred in intended size and resolution
Why Should You Prefer a Led Screen?
It is not in vain to put a led screen on the boulevards, squares, private buildings, shopping malls of the developed countries of the world. Led screens take attention, they make a difference! They make you prestigious. It is power indicator.
Why LED Screen?
A presentation made to us during our training in factory abroad:
When you catch sight of a screen wherever in world you cannot forget that screen! For example, think about where you see the screen in Istanbul!
You can count all of them one by one. What was in the billboard advertisement next to those screens? There's no way to remember.
There is something different in the LED screen perception. It shows its difference within seconds and is not erased from memory.
On the LED screens, a light from an area which is as much as a pinhead spreads in 8000 nits of power.
Even if you do not look at the screen under the influence of light from this light source, you will definitely see the screen because it moves around. And you can never forget it!