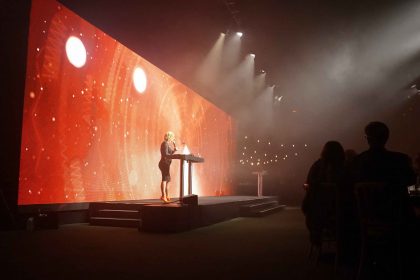 INDOOR LED SCREEN
Indoor Led Screen Systems
When it comes to the Led screen, huge giant led screens in the square and concert areas come to mind.  However, it is used in indoor environments such as hotels, theater halls, hospitals, cultural centers, and presents contents for advertising, information and promotion purposes. Led screen systems applied to the indoor environment are called as the indoor LED screen.
Indoor LED screen systems are not preferred in outdoor advertisement due to the unsuitable outdoor environment and being vulnerable to bad weather conditions. In addition, outdoor LED screen systems do not have high light intensity. It is sufficient for the Led screens to have certain features to be used in the indoor.  These features include:
Indoor LED screens are used in closed areas and their resolution must be high because they are viewed from close range. However, it has lower brightness.
Unlike normal screens, LED screens must have a frequency of at least 2000 hertz to give a clear image to the camera.
Led screens support different display formats.
Led screens can be produced in desired sizes for our customers' request.
We offer you the most comfortable service with our easy installation models and we support you 7/24 with qualified and experienced staff.
Choose us for a service approach that meets the required standards.
Mobile Led Display
Mobile LED displays are the best way to communicate and expand the audience at large events. An event using a mobile digital signage will successfully send your message to the viewers.
Dynamic screens are not only accessible by audiences, but they can also be installed in a convenient, economical and fast manner. At the same time, since screens can be moved to different locations, you do not have to be restricted to a specific area.
Some of the advantages of these screens include the ability to view live feeds, innovative use for presentations, maximize audience reach and sell the ad space, and display multiple advertisements.